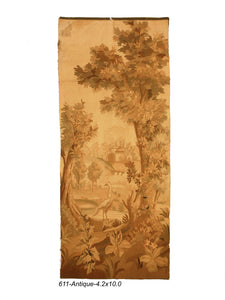 19th Century French Verdure Tapestry - Woven Passion Rugs
19th century French Verdure tapestry: A wool and silk tapestry depicting a bird in a verdure wooded scene with a wide floral border. 
In the millefleur style, the plants are dispersed across the field on a green background representing grass, to give the impression of a flowery meadow, and cover evenly the whole decorated field. At the time they were called verdures in French. They are mostly flowering plants shown as a whole, and in flower. Many are recognizable as specific species, with varying degrees of realism, but accuracy does not seem to be the point of the depiction. There are very often animals and sometimes human figures dispersed around the field, often rather small in relation to the plants, and at a similar size to each other, whatever their relative sizes in reality.
---
More from this collection