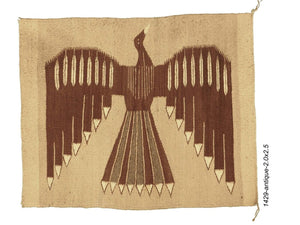 Navajo Single Saddle Stylized Eagle Rug
Antique American rugs can be identified by their distinct technical characteristics and wonderfully artistic details. Originally woven by American Indian nomads for practical purposes, these rugs were often constructed with wool for warmth but are sometimes found in cotton or silk fibers.
Navajo textiles are highly regarded and have been sought after as trade items for over 150 years. Commercial production of handwoven blankets and rugs has been an important element of the Navajo economy. As one expert expresses it, "Classic Navajo serapes at their finest equal the delicacy and sophistication of any pre-mechanical loom-woven textile in the world."
Rug Number: 1429
Size: 2'0" X 2'5"
Design Reference: Navajo Eagle
Collection: Antique
Style: American
Color: Caramel
Content: Wool
Weave Construction: 100 % Handmade
Origin: America
Custom Capabilities: New & Re-Creation
---
More from this collection